PPEF Scholarship Application Opens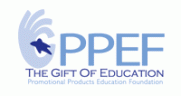 The Promotional Products Education Foundation (PPEF) is now accepting applications for college scholarships.
Promotional products professionals and their children are eligible to apply for college scholarships.
Since 1989, PPEF has awarded more than $1.5 million to students with parents in the promotional products industry. Employees of promotional products companies are eligible to apply as well.
The PPEF will give away 117 scholarships in 2017, totaling more than $175,000.
For more information, visit www.ppef.us.