10 Feel-Good Stories During the COVID-19 Epidemic
The news surrounding COVID-19 continues to change on an hourly basis, and in the age of the smartphone, the breaking news updates are relentless. A lot of the headlines are bleak. Hospitals are nearing capacity, businesses are closed and people across the globe have been asked to hunker down indefinitely in the name of flattening the curve.
Feeling scared or overwhelmed is a perfectly reasonable response here. The novel coronavirus pandemic has forced us to grieve lost routines, social connections, family structure and our sense of security. If you haven't done so already, feel your fear.
Now breathe.
The World Health Organization (WHO) recently offered some helpful advice for those who find their mental health is suffering, starting with limiting and "seeking information updates at specific times during the day once or twice," according to the BBC.
To be clear, the news is serious and journalists have a duty to inform the public responsibly. But it is also important to remember that, even in times of crisis, a light exists. Here are 10 examples, both in and outside of our industry, where the best aspects of human nature prevail.
Cohoes, New York-based paper supplier Mohawk Fine Papers previously shifted production to creating labels for sanitizer bottles and splitting large rolls of gowns and masks into smaller sizes. When the staff began brainstorming new ways to help, they settled on a niche product typically used to construct lightweight, sturdy trade show exhibits, Xanita Board, which is manufactured by a Capetown, South Africa-based startup, and distributed in the U.S. by Mohawk. Within a day of contacting the supplier, Mohawk received a complete set of "cut files" that show how to set up room dividers and patient beds for use in pop-up hospitals. Mohawk is also offering warehouse space and logistical assistance to expedite the transport of medical supplies.
Governor Gavin Newsom made one of the most sweeping measures taken by a state to slow the spread of COVID-19 when he instituted a shelter-in-place order for the state of California. One particular Bay Area restaurant has figured out a way to stay in business, while simultaneously giving back to health care workers. Tootsies at the Stanford Barn in Palo Alto is providing meals to local hospitals through an event called "Adopt a Doc or Nurse." With the help of like-minded patrons, restaurant owner Rocco Scordella has already fulfilled 2,000 meal orders to feed ERs and ICEs at Stanford Hospital and Lucile Packard Children's Hospital of Stanford.
Using 3D printing technology, a Minuteman Press location in Levittown, N.Y., is manufacturing face shields for health care providers during the coronavirus pandemic. After reading a story from his sister about a Syracuse couple printing a face-shield to help protect providers, owner Michael Levy contacted the journalist and got to work. He obtained the files needed to print most of the required parts, converted the files for his 3D technology and performed a successful test run. His collective team donated elastic bands. "We understand the fight and are armed with print technology to help both our client base and now, our heroes in medicine as well," Levy said. "I told every one of my employees that as a printing business we are essential in a special way right now and all of us will work tirelessly to serve that role."
Athletes at all levels have seen their respective seasons come to a halt amid the coronavirus pandemic. In Damascus, Va., Trailhead Designs, a source of screen printing, embroidery, signs, banners and graphic design projects, produced banners of 14 Holston High School athletes who represent the track and field, cross country, softball and baseball teams. The banners will likely hang on Main Street through May.
https://www.facebook.com/photo.php?fbid=10220676936306663&set=p.10220676936306663&type=3&eid=ARBybcYg_uvkwMKnbc_emmMmb5alTnFPkl-_8zA489-K_Ok49yeBvOZZ8dShP5wZIEk4gKOPt08acclM&__xts__%5B0%5D=68.ARCsPtS7ZOjtMrUBgZM_TjyvmeQ5FApVJ6VwDsh6QgN8_zxzKgs9-S3jwMSSQIWwMmCBuHEnK1eVv9OfzjF1ICTbptkSMSH9A5nE3T6Q36jJ5NpOu8RvcPiOj5Txy_JRHULj_nNH-DVHP2rgS94G0-g4X7n_eBqFci3ADFHa6PH2JO9t9UB0lHHieXv7CW3DfuC-jgH_d2K6En5fIlGi_oPqpuJilfjKBl6fVpKVznF4gGW_4bQWFYQXdVhoV7ZIJ-AUE7ldOLZjeS6hnoMGyTtlBQYb6Azz-RL7I5H7XyLqELiE5ofKPjdPBzkSR-VlEwN-W5-EHW_ogR-4hqAkkrVfrMPH19tejt6JQz0uL7bU4xHzaxCNR1U_PLpJBntEulbaAbtuxi8J57S0ciZeVkKoI21z898ByTRtoA90QfS0GNo&__tn__=EEHH-R
Schools may be closed indefinitely as the country prepares for apex, but a second grader from Ashburn, Va., has been busy teaching about kindness. On a mission to help front-line health care workers, seven-year-old Zohaib Begg reached out to local hotels in the Ashburn area to see if they had any shower caps to donate to hospitals. Not only did the hotels have shower caps that doctors, nurses and technicians could use as hair covers, they had stocks of gloves and face masks that they happily gave to the young boy. Two days and six hotels later, Begg and his mother collected more than 6,000 items that could be used by an industry in dire need of protective gear.
In case you didn't know, the Promo Marketing Media Group, which consists of Print+Promo and Promo Marketing, is headquartered in Philadelphia—also home to Temple University. Not surprising, we have several Temple Owls on our team, so we had to share the news that Temple's Liacouras Center will be used as an overflow hospital, if needed, free of charge during the coronavirus crisis.
If you've visited any essential business within the last month hoping to stock up on hand sanitizer, chances are you walked out empty-handed. Not only are retail shelves reflective of panic-induced, bulk-purchasing times, but so too are promotional suppliers' suspended hand sanitizer orders. Some unlikely sources are helping to fulfill demand, including Vodka brand Tito's. On March 22, the company said it would initially roll out 24 tons of hand sanitizer and give away bottles for free. Tito's is currently working on the formula for its product, labeled as "hand cleanser," in cooperation with the Alcohol and Tobacco Tax and Trade Bureau.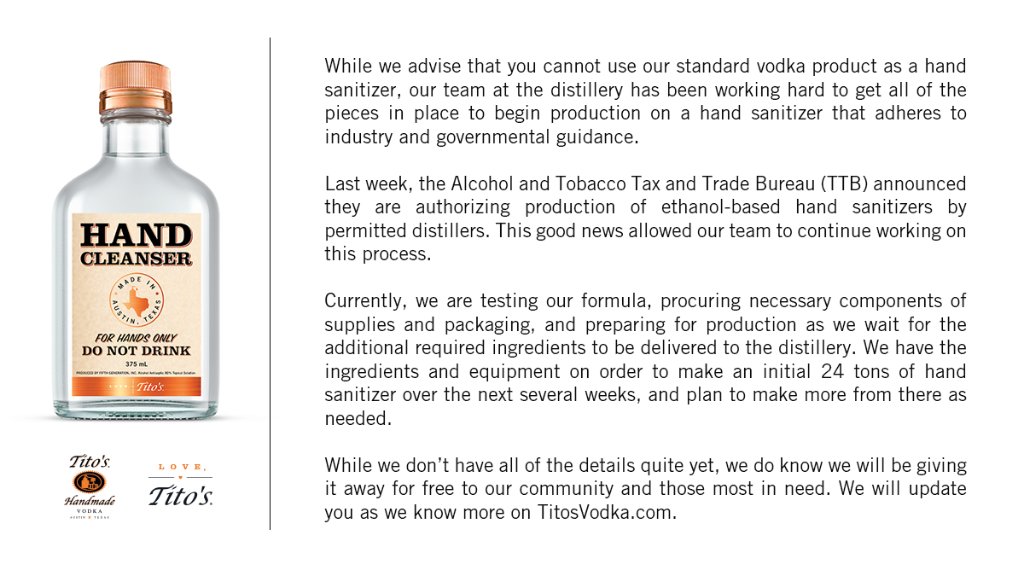 In Massachusetts, before a mandatory shut down of nonessential shops went into effect, an anonymous man purchased all the flowers in one florist and gifted them to the town of Needham's residents.
New York governor Andrew Cuomo put out a call to mental health professionals to voluntarily sign up to provide online mental health services. He announced last week that 6,000 professionals answered his request.
In NY we are concerned about the mental health part of this pandemic, too.

We can't underestimate that.

For FREE emotional support, consultation, and referral to a provider, call 1-844-863-9314

— Archive: Governor Andrew Cuomo (@NYGovCuomo) March 25, 2020
In the wake of the global COVID-19 outbreak, video conferencing and business messaging are making it possible for people to stay connected as many adopt a work-from-home model for the first time. The tech industry responded. Google rolled out free access to its advanced Hangouts Meet video-conferencing capabilities through July 1, 2020 to all G Suite customers globally. Microsoft followed suit and said that its Teams collaboration will be available free for six months so that the company's employees, customers, partners and communities can continue working remotely. Cisco Webex expanded the capabilities on its free Webex offer in all countries where it is available. Intermedia AnyMeeting announced that its AnyMeeting video conferences and webinar service is available at no cost through Dec. 31, 2020.
E
Elise Hacking Carr
Author's page
Elise Hacking Carr is editor-in-chief/content director for Print+Promo magazine.