TOP 50 SUPPLIERS: Leading by Example
Real talk from the top revenue-generating suppliers of 2015
Running a business requires smarts, adaptability and a willingness to take risks. But a true test of leadership is finding a way to succeed during challenging times—just ask the chief executives who comprise this year's Top 50 Supplier's list. From shifting consumer habits to recessionary fallout, they've experienced it all, yet here they are, still standing. Their secret? A service-based approach.
For Ennis Inc., that means offering a diverse product selection with fast turn times. For 4over Inc., it's about creating new programs based on customer feedback. For OneTouchPoint, it's sharing insight and experience to help customers grow. And, for Western States Envelope & Label, listening is everything.
In the following section, we'll take a closer look at the makings of this year's four biggest earners. Find out what they had to say about their accomplishments, ongoing concerns and the future.
1. Ennis Inc.
Principal: Keith Walters, Chairman, CEO and President
Print+Promo (P+P): What was your company's biggest accomplishment over the last year?
Keith Walters (KW): The addition of Kay Toledo Tag and SSP was a major acquisition for Ennis. With the addition of these two locations, we are now the largest producer of tags focusing on the reseller market. Although there was some overlap in customers, due to the niche specialties of these brands, there are many new customers that we were able to add.
We are also very proud of our financial strength. Ennis has the lowest debt-to-equity ratio in the industry, which should give our customers confidence when choosing us as a partner.
P+P: What is your company's top priority for 2016?
KW: We plan to find additional acquisitions that fit our printing segment strategy. We are strong believers that print still has a strong hold on its place to convey information—whether that be transactional or marketing related. Ennis will continue to look for companies that complement our existing print businesses while giving our customers new products or new locations to sell from a company that they can trust.
P+P: What makes this industry so special? What does it get right?
KW: We have evolved to meet the ever-changing needs of our customers. When I came to Ennis 18 years ago, three- and four-week lead times were common. Customers demanded shorter turn times and smaller inventories. Today, lead times are dictated by the customer, and we've adjusted. In some cases, custom orders can be entered in the morning and are available for pickup or shipping that afternoon. "In today, out tomorrow" is a common phrase heard at the Ennis plants.
Unlike the major direct manufacturers, Ennis and the reseller market have focused on the small- to medium-sized customers. The transfer away from print has been much smaller for this group. While technology has taken business away from print suppliers, it has also generated new business opportunities, allowing us to become more efficient. Technology solutions for our sales team, plant operations and, ultimately, manufacturing have helped in many cases separate us from the competition.
P+P: What is the industry's biggest struggle, and can it be fixed?
KW: Print is declining. The decline is slowing and in some product lines it has become almost flat. We are all having to deal with lower revenue from print sales, but those who say their customers aren't buying print anymore just aren't looking in the right places. The days of a "forms buyer" taking sales calls have long passed. Today, many of the products previously purchased by these specialists are now bought by someone who has this as a duty and not a job.
The struggle for Ennis is finding those distributors that appreciate that demand still exists for these products, are motivated to find new customers and, at the same time, see the revenue opportunities recurring print sales bring their businesses.
P+P: What is the key to becoming—and remaining—a top supplier?
KW: The same for any business that wants to be successful—finding customers, treating them right and staying relevant.
P+P: Is there anything you would like to add?
KW: We are proud of the hundreds of millions of dollars of forms that we produce each year, but we are so much more than forms. From tags and labels, presentation folders, specialty forms, secure documents [and] envelopes, to technology solutions, Ennis has the solutions that their customers need. We just need to keep promoting these capabilities to our customers and showing them the new things we are doing. Ennis has evolved dramatically over the last 18 years, and its conservative financial approach will keep it around for another 18-plus years.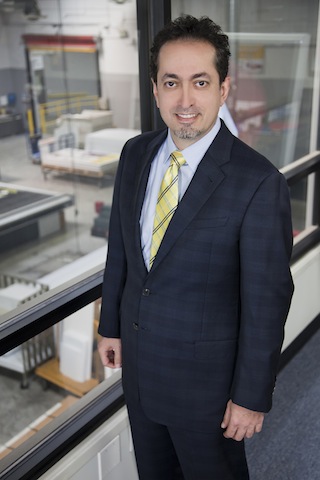 2. 4over Inc.
Principal: Zarik Megerdichian, CEO
Print+Promo (P+P): What was your company's biggest accomplishment over the last year?
Zarik Megerdichian (ZM): Our company's biggest accomplishment this past year has been the 50 percent expansion of our national footprint. We've opened up brand new operations centers in Houston, Central Florida and San Jose. Before the end of the year, we will open up a new Seattle operations center as well. This strategy extends our reach into the local market where we can service increased demand for fast turnarounds in 12 locations across North America.
P+P: What is your company's top priority for 2016?
ZM: For 2016, we plan to put more tools and solutions into the hands of our customers to help them perfect their profits and continue to grow thriving businesses. This year, we introduced a full-service EDDM solution that has been a big success. In addition, we introduced a tool called Con4rm that preflights the customers' files for them, along with MyMarketing, which provides free marketing resources to customers. Each of these saves the customer significant amounts of time and frees them up to grow. We'll be rolling out more exciting and innovative tools and solutions like these in 2016 that will transform how our customers run their operations. We take great pride in not only the quality of our print products, but in the leading-edge services we provide, thus fulfilling our vision to simplify and transform print.
P+P: What makes this industry so special? What does it get right?
ZM: This industry is special because of the significant impact that advancements in technology have on print workflow, quality and, ultimately, the delivery of print. Tactically, we focus on higher quality output, competitive prices and the steady delivery of new products to stay relevant to our customers. The industry's constant evolutions and the progressive nature of companies like ours make print an exciting place to be.
E
Elise Hacking Carr
Author's page
Elise Hacking Carr is editor-in-chief/content director for Print+Promo magazine.